21 March 2017
We are delighted to announce that Culture+Conflict has partnered with the Liddell Hart Centre for Military Archives and the Foyle Special Collections Library at King's College London to host an artist in residence, Bisan Abu Eisheh, for two months during Spring 2017.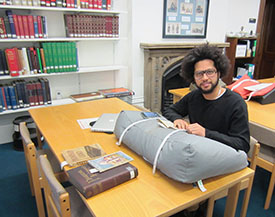 Born in Jerusalem in 1985, Bisan Abu Eisheh is a Palestinian artist living and working between Jerusalem and Glasgow. He often draws on information gathered through conversations and oral testimonies, archives and collected objects as a tool to investigate history and politics. His work explores issues including national identity, mobility, migration and injustice.
The residency aims to bring new insights and perspectives to aspects of the material in the archive, especially in relation to the history of war, conflict and colonialism. Please consult Paper's Archaeology – Bisan's blog for updates as his residency progresses.
On Thursday 2 March, we organised an event at King's College in conjunction with the residency.  Entitled 'Whose identity? Whose history? the panel discussion included Bisan Abu Eisheh and New York-based artist Mariam Ghani. The discussion was chaired by Pablo de Orellana from the Department of War Studies, King's College London.
Save
Save
Save
Save